Vince Bush
Treasurer
This email address is being protected from spambots. You need JavaScript enabled to view it.
Doug Kuiper
Deputy Treasurer
This email address is being protected from spambots. You need JavaScript enabled to view it.
Jackie Kroeze
Account Clerk/Cashier
This email address is being protected from spambots. You need JavaScript enabled to view it.

Beth Canaley
Treasurer Assistant
This email address is being protected from spambots. You need JavaScript enabled to view it.

The Treasurer's office is located at the Holland Charter Township Offices (353 North 120th Avenue) and can be contacted at (616) 395-0042 or by e-mail at This email address is being protected from spambots. You need JavaScript enabled to view it..
The Treasurer is responsible for the collection, deposit and investment of all Township funds. The Treasurer directs the billing, collection and accounting of all property taxes levied by the Township.
The distribution of taxes paid to Holland Charter Township is reflected in the pie chart below: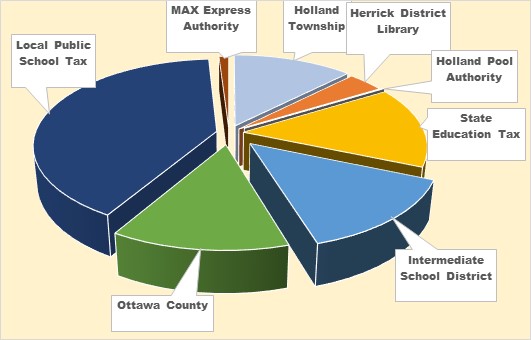 FAQs


Q. When are tax bills sent out and when are they due?
Q. What is a Principal Residence Exemption (PRE), and how do I know if I have it?
Q. I didn't receive my tax bill, what should I do?
Q. Do you send the tax bill to my mortgage company?
Q. Can I pay my tax bill with a credit card?
Q. What if I can't pay my entire tax bill by the due date?
Q. Are taxes pro-rated when there is a change in ownership of a property?
Q. What timeframe does my tax bill cover?
To see all FAQs, click here.